Calgary – Home of Mad Maids Cleaning
The City of Calgary is our home base and the place from which we coordinate our home cleaning teams in surrounding towns and cities. On a typical weekday, you will find our maids in houses all across Calgary, from Tuscany, Panorama Hills and Martindale areas to Evergreen and Mackenzie Towne – and everywhere in between.
How to get Mad Maids to clean your home in Calgary
It's easy to get our two-person teams of cleaners to your home anywhere in Calgary. Our customers take an average of just 60 seconds to complete an order on our online booking page. This extra fast system is a part of the ease of our service choices, though should you feel more comfortable talking to team member and booking over the phone we welcome you to call us at 587-887-1959.
We use a flat rate pricing system which enables you to know, exactly, the cost of cleaning your house in advance. You're charged the same great flat rate no matter how long the cleaners stay at your home (they'll be there till the job's done!).  We have developed a price list that breaks down the level of cleaning you need and categorized our service packages to just three: routine cleaning, deep cleaning, and moving in/out cleaning. You can see exactly what each type of cleaning includes by scrolling down on our pricing page.
Mad Maids Double-Guarantee of Service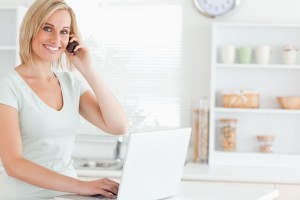 The typical home cleaning service guarantee is the money-back assurance (if they offer one at all!). You will get that from us too. But we also put our own money on the line to ensure our clients get the best possible quality in service. Think of it as the 200% guarantee: we will re-clean your home a second time if you are not happy with what we did first time out, no questions asked.
A repeat job would mean lost income on our part and quite a bit of embarrassment for our maids, but everyone at Mad Maids is willing to take a bet on our standards.  And, if after that re-cleaning you still aren't happy, you will get your full money back.. So far, we're winning that bet.
Security and Reliability Assurance
There is always the worry that some home cleaner could pose a security risk – either by stealing household valuables or causing damages.  In our years of home cleaning in Calgary and as far north as Edmonton, we have never had an incident that threw even the slightest whiff of suspicion on any of our maids.
The reason is that our maids are trained professionals with easily verifiable backgrounds. Our vetting is also strict and includes a full police check. We retain the same two-person teams as long as possible, not only to keep valuable tried and tested working coordination between them but also to keep a clear quality control trail.
Other advantages of our home cleaning services include:
Insurance against Theft or Damage: Although thankfully it has never been necessary to use it, we have insurance against theft or damage of your household valuables.
Quality of Service: Our cleaning teams bring along all the supplies. We insist only on quality supplies so as to avoid damage or deterioration of quality of household items from rough scrubbing or harsh chemicals. And we will use your supplies, if that is what you want.
Do you have any question about Mad Maid home cleaning services anywhere in Calgary or the surrounding areas? Drop us a line at ladiesandgents@madmaids.ca and our customer happiness team will be delighted to help you out.