Mad Maids Cleaning Services in Edmonton
A City well built is how the City of Edmonton likes to be known. Can't argue with that, considering the recent infrastructure development and the kind of homes we clean here. That's right, our maids clean homes in Edmonton and all surrounding areas. On any given day, you will find our cleaning teams shuttling from one side of Edmonton to another, doing their best to keep the cleaning supplies as neatly out of sight as a 'well built city' might expect.
Mad Maids Home Cleaning Services in Edmonton
In Edmonton as in all our service areas, we offer more than only routine home cleaning. We also do deep cleaning for new customers or extra messy homes and top to bottom moving in/out cleaning. Those are the three categories of our services. Our online price list has all the details, you can quickly see exactly what each type of cleaning includes by scrolling down past the prices. Our pricing is calculated on a flat rate basis. That way you'll know exactly what to budget for your cleaning (no surprises!), no matter how long it takes we'll stay until the job's done.
Our cleaning teams bring along all the supplies. Everything is top-notch, tried and tested, so you need not fear damage by abrasive scrubbing or harsh chemicals. No chance of dust re-circulation from use of wrong make vacuum cleaners. And, if you prefer, we can even use green cleaning supplies.
How to Book Mad Maids Cleaning Teams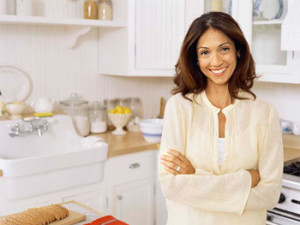 One way, and probably the easiest way of getting a Mad Maid's cleaning team to the doorstep of your Edmonton home is to book right here online. It only takes about 60 seconds to complete an order and schedule your cleaning on our booking page. After you book, we confirm the date and time with your cleaning team and follow up with you via email. Would you prefer us to confirm with you via phone instead? No problem! Just let us know in the comments section.
How do you choose which cleaning level is right for you? You begin by looking at our list of included areas (on our pricing page) in each service level for the living area, bedrooms, kitchen and bathrooms. Choose which one suits your needs best, select it on our booking form and it's done. We use simple flat rate pricing for each of our cleaning levels, so you always know what you're getting in advance.
Why Mad Maids Cleaning Teams Are the Better Choice
Different clients give different reasons for using our home cleaning services. Here are the highlights:
Reliability and security assurance: Our maids pass an intensive background check before joining our teams. Which explains why we have never had a theft or security incident.
The 200 % Guarantee: We demonstrate our faith in our work by putting our money on the line. If you are unhappy with our work, we will re-do it for free, which means we will incur lost income. And if you are still not satisfied after the re-cleaning, we will refund your money.
Insurance against Theft or Damage: It has never happened but we still retain insurance against theft or damage of your household items.
Do you have any questions about Mad Maids home cleaning services? Drop us a line at ladiesandgents@madmaids.ca or call us at 587-887-1959, and we will be delighted to help out as best as we can.